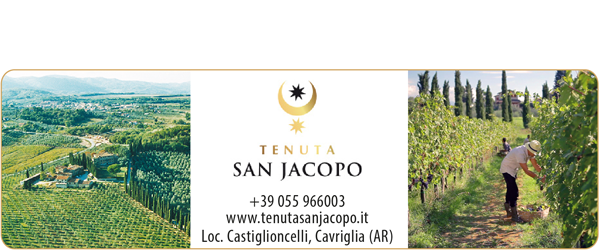 A story began in 18th century.
Beautiful colonial houses and a cellar arise on a spectacular hill, preciously carved by avenuse of cypresses, pinewoods and groups of oaks.
I30 Hectares of vineyards, olive groves and woods between Chianti Classico and Valdarno valley, regain its old prestige by the vision and the bravery of our family.
Three brothers from Milan, Vanni, Carlo and Marco Cattaneo bought this estate in 2002 with the wish to bring it back to its former glory combining the local traditions of Tuscany with the pragmatic northern culture of Lombardy.
Their aim is to produce "great" wines, elegant and refined, respecting the special terroir of the vineyards.
Using modern technology, not only in the winery but also to produce olive oil from the stunning olive groves surrounding the villa. The whole project is designed to exalt the local beauty and provide a very special place to spend a few days holiday.
OUR TASTINGS
Wine and Oil Tasting and Shop
From Monday to Friday 08.30-12.00/13,30-17.00
Saturday and Sunday on reservation: Tel. +39 055 966003

San Jacopo in Castiglioni soc. agr. a.r.l. ||Gps coordinates||  || SitoWeb||
Loc. Castiglioncelli -Cavriglia (AR)