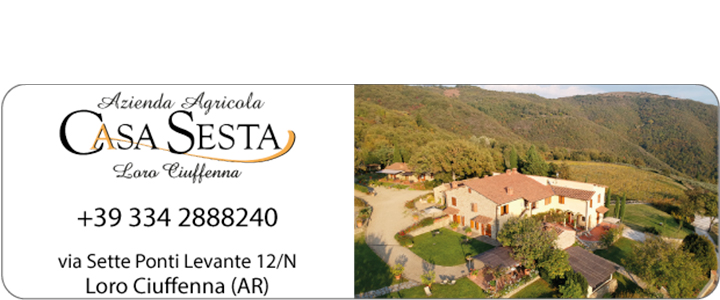 Located in the hills of Valdarno Aretino Agriturismo Casa Sesta overlooks a height of six hundred meters on the Arno valley offering its guests one of the most beautiful views of Tuscany.
Ours is a small family business but with a great desire to host, meet new people and share our Tuscany.
In the farm immersed in the vineyard, olive grove and orchard, an old farmhouse and hunting lodge host 7 finely restored apartments with a perfect blend of modern comfort and classic Tuscan style with terracotta floors and wooden furniture. The kitchens are equipped with all the necessary equipment to cook typical and genuine dishes using the products that characterize our region.  Adjacent to the farmhouse are cultivated vegetables, fruits
OUR TASTINGS
WINE TASTING – € 15
It lasts about an hour and a half and includes an introduction to the tasting technique and tasting of the wines of Casa Sesta. (€ 15.00 per person)
 


.

WINE TOUR – € 20 
It has a duration of 2 hours and a half, takes place half the time in the winery where it will be shown the production process and refinement with the possibility also to taste a preview of wines and then finish with the tasting out on the terrace of the Casa Sesta wines. (€ 20.00 per person).
All tastings are combinated by sweetand savory crakers to taste at the best the  wines.
 


.

COOKING CLASS – € 35 


It lasts about  3 hours; is a complete course of Tuscan cooking , from the first  dishes (gnudi, pappa al pomodoro, ribollita) to main courses (ossobuco, chicken fricassee, fennel nana) to desserts (cantuccini, castagnaccio, creamy cake). Trying to use mostly the vegetables and herbs of the farm and other products at Km 0, you will not miss the opportunity to drink the wines of Casa Sesta during the course.

At the end you enjoy the food prepared during the class enjoying the view from the panoramic view.
 

The 18-month aged Casa Sesta Grappa and Extra-Virgin Olive Oil can also be tasted on request.
All activities and tastings will be carried out by Giulia Pratesi, owner of Casa Sesta, passionate about cooking, wines and conviviality.
Direct Sales and Tastings:
April – May – June open every day from 10:00 to 15:00
July – August – September open every day from 9:00 to 18:00
Tastings and activities are by reservation, available on any day and time.
---
Casa Sesta Coordinate geografiche || WEBSITE ||
via Sette Ponti Levante 12/N,  Loro Ciuffenna (AR)

csa