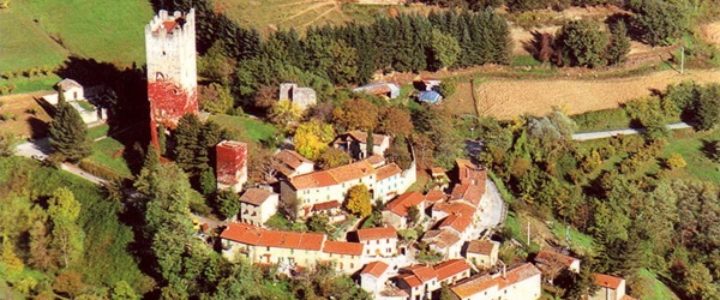 The first mention of the castle dates back to the beginning of the eleventh century, when a document of 1017 designates it as the residence of Count Teudelgrimo Guidi, founder of the noble family of the counts Guidi di Porciano. In the thirteenth century the castle was owned by Count Tegrimo, known for having returned to Porciano in 1288 after the battle of Campaldino, to rob merchants and travelers who passed by the castle. For this reason, in 1291 the count was tried and sentenced to a fine of 10,000 guilders to be paid to the mayor of Florence.
On 20 March 1349, his descendant Ludovico Guidi, the last representative of the noble family, became a friar and, according to the rules according to which he had to strip himself of all earthly things, handed over the castle and the rest of the property to the city of Florence. In the 18th century the castle was sold to the Goretti de' Flamini family, who also owned the castle of Romena. The castle was then abandoned for a couple of centuries, until the 1960s when it was restored by Countess Flaminia Goretti de' Flamini and her American husband Colonel George A. Specht.
Museum
According to tradition, the castle hosted Dante Alighieri in exile after the battle of Campaldino.
A museum has been set up inside the castle, where it is possible to visit Dante's salon, the representative hall of the castle and the collections housed on the lower floors of the building: the collection of household tools and agricultural instruments used in the surrounding countryside of Casentino in the eighteenth and nineteenth centuries; the exhibition of finds found during the restoration of the castle (ceramics, pottery and glass dating back to the fourteenth century) and photographic documentation on the restorations themselves; the exhibition of finds of Native Americans from North Dakota (United States) and part of the private collection of Colonel Specht.