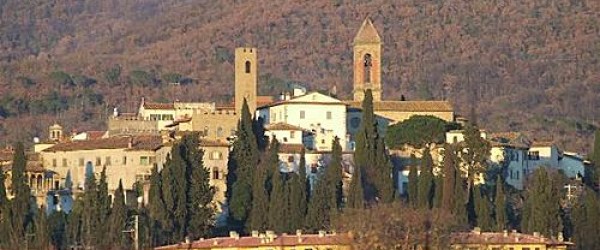 Castiglion Fibocchi  (Ar) is located along the road of Setteponti in Southeast Valdarno halfway between San Giustino Valdarno and A Bridge Buriano,  the old village, very characteristic, is perched on a hill from which you can recognize from afar tower of the town hall and the church tower .
Its origins date back to the twelfth century when it was identified by the name of Castiglione in Val d'Arno enclosed in a wall defended by seven towers and two doors of access: the  Cool Door and  Gate of the Sun , of which only the first is still visible as it is the only tower of which is still a trace, the Cold Tower .
Just arrived in the country I catch the attention of the impressive town hall with its clock tower that stands at the top, putting even more emphasis on the direct light of the midday sun;
on the left side there is another more recent door of the castle that I introduced in Part I think most characteristic of the old village: the alley of the boxes that leads me in narrow alleys  between evocative tunnel overlooked by housing characteristics that make it very pleasant.
Not far I find the Church of Saints Peter and Hilary whose first mentioned in 1304 when it was much smaller and used as a chapel of the castle , then over the years has undergone several transformations until you have the current look, inside there is a beautiful fresco of the Madonna Enthroned attributed to Agnolo di Lorentino disciple of Piero della Francesca.