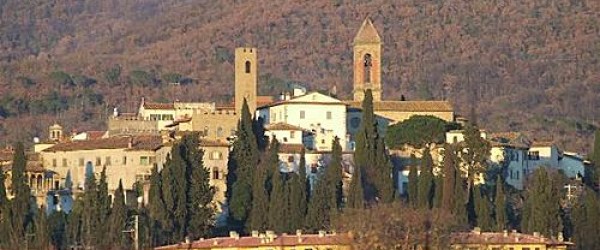 Castiglion Fibocchi  (Ar) is located along the road of Setteponti in Southeast Valdarno halfway between San Giustino Valdarno and the Bridge Buriano; the old village, very characteristic, is perched on a hill from which you can recognize from afar tower of the town hall and the church tower .
Its origins date back to the twelfth century when it was identified by the name of Castiglione in Val d'Arno enclosed in a wall defended by seven towers and two doors of access: the  Cool Door and  Gate of the Sun , of which only the first is still visible.
Just arrived in the country  your attention will be caught by the impressive town hall with its clock tower that stands at the top, putting even more emphasis on the direct light of the midday sun;
Not far you can find  the Church of Saints Peter and Hilary that had been first mentioned in 1304 when it was much smaller and used as a chapel of the castle , then over the years it has undergone several transformations until the current look;inside there is a beautiful fresco of the Madonna Enthroned attributed to Agnolo di Lorentino disciple of Piero della Francesca.