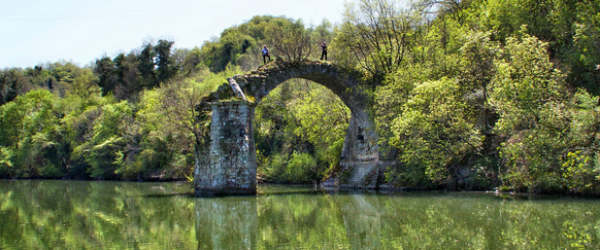 The nature reserve

of

the

hingers and

Hell valley

 

form a

protected natural oasis

along the bed

of the Arno

,

in a short

stretch of about

4.5 kilometers

between

the

dam

Levane

(

Ar)

and the bridge

Romito (pictured above)

The protected area is rich in biodiversity to be admired in all seasons and also used as a stopover for migrating from some species of birds.
Here you can recognize the various types of vegetation present and with a little 'luck of the birds as the' heron , the cormorant , the Flamingo , the ' nightingale of the river, the song thrush and many others, but the real king Bandella is the kingfisher , hurtling fast-deep water in search of insects.
The name of the Valley of Hell was given by Foderai, skilled men challenging the dangerous rapids on this stretch of the river on rafts, carrying trunks of trees from the forests of the Casentino to Florence and Pisa.
For those who want all the information on how to visit the Oasis of hinges may write to the guides "Alcedo Environment" or contact them by mail at this address: info@alcedoambiente.com
 Tel: 055 5357501
 Tel: +39 328 1520911
 Tel: +39 328 2024692