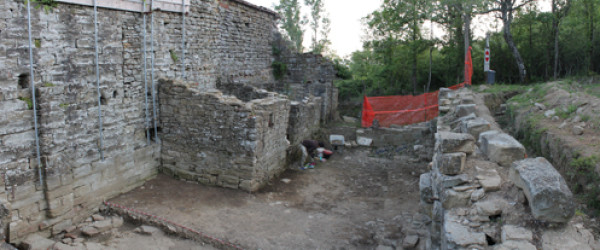 Not far from the road that connects Castiglion Fibocchi at  Gello Biscardo are the evocative ruins of the church of San Quirico in Alfiano.
It was important church in medieval times, it depended six churches, including the castle chapel of the "Sons of Bocco" and the church of San Pietro in Pezzano.
You do not know an exact date of its foundation, however, it dates from the eleventh century and replaces an early Christian church.
Like all churches of this era is built near a major road network: passing nearby the important Cassia Vetus that in this area had a detour to the Casentino.
It might be expected for the church of San Quirico in Alfiano (also called sopr'Arno for its location close to the river and higher than) a parallel story to that of Castiglione Fibocchi.
They come together because each castle needed a church for his people, decay set in 1384 when the Republic of Florence, after founding the New Lands in Valdarno, extends its domain to the Arezzo area.
But while Castiglion Fibocchi, albeit politically differently, can "go on living", the church of San Quirico, now far from the road that mattered, has little reason to continue to exist and so is soon left abandoned.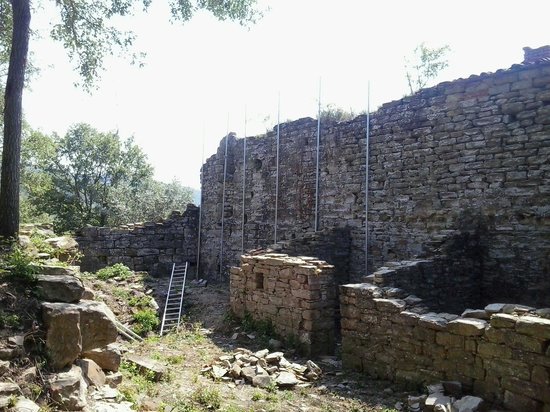 Today, thanks to the impetus given by the Union of Municipalities of Pratomagno which financed the first studies and archaeological investigations, but above all thanks to the passion of two young archaeologists: the dr. Francesca and Dr. Fabbrini. Salvatore Bussu, that since the spring of 2013 have begun a campaign of study and investigation, we can say that we are facing nothing short of an important witness that, from the very first results, promises to shed new light on a monument Religious absolute historical importance, for too long forgotten.
From the first stone artifacts and ceramics found immediately below the "layer collapse", but even more by the traces of walls below said layer, it can be assumed as the church visible today, is the result of a re-building an existing church. If the continuation of the investigation were to give certainty than today barely visible, it would certainly confirmed the dating at least from the fourth and fifth century. the original church. This short statement is therefore to be considered "in progress"!