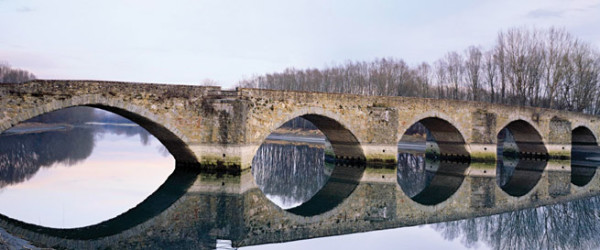 You must stop to admire it: you do not notice its beauty to step!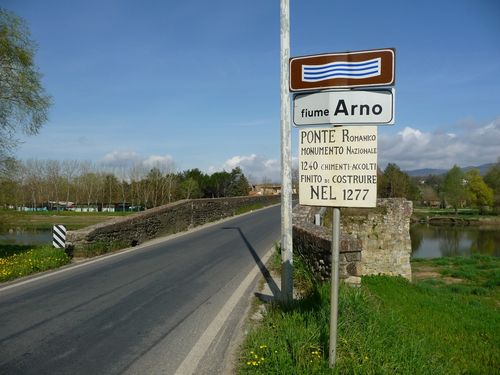 A beautiful Romanesque bridge plows with its seven arches over the most important river in Tuscany. The "Annales Arretinorum Maiores" show in 1277, the year of construction of the bridge Buriano and then fights with dry periods and flood of a river in the Apennine torrential regime. It seems that the building was founded on the pillars of a previous Roman work which, although devoid of the original arches, for long periods would allow the transit between the two sides, thanks to an overhanging wooden structure.

Leonardo da Vinci! The genius knew that place, witness his map of the area preserved in Windsor, the Royal Library (It is a real cartographic document created by the artist between the summer of 1502 and spring of 1503, probably on commission Duke Valentino. Leonardo performs a precise relief map orographic and hydrographic). This area Arezzo area, with the Buriano Bridge, is the landscape of the Mona Lisa, the enigmatic Mona Lisa. Behind her smiling face you can see the bridge humpback identified by some scholars with Romanesque bridge and even more in the distance there appeared the badlands of Valdarno, eroded pinnacles of clay that can be seen today along very well with the train the new railway line Florence – Rome. Many centuries have sought the mysterious landscape that forms the background of the Mona Lisa and Leonardo, with the technique a bird, portrayed ideally above. Behind the enigmatic smile of the Mona Lisa, c 'and' not invented a background. The landscape is just a few kilometers from Arezzo: the bridge with seven arches over the left shoulder of the Mona Lisa and 'Bridge Buriano. Researchers were able to identify this famous landscape through drawing by Leonardo in the Val di Chiana.