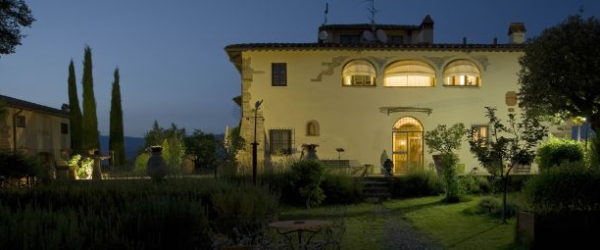 The holiday farmhouse IL PINO is located on the edge of the Valle dell'Inferno, in the heart of Tuscany, between Florence, Arezzo and Siena. The renovated historical farmhouse sits in the middle of an organic farming area among Malvasia vineyards, organic strawberry fields, olive groves and undergrowth where you can find medicinal plants. The farm fully maintains the features of a traditional farmhouse, including the furniture made in Arte Povera (rustic style) while offering all the comforts of modern times, such as Internet. The atmosphere is warm and welcoming and you will certainly feel completely at ease here. This farmhouse in Tuscany welcomes the guests to make them experience a taste of the traditional farm life projected into the third millennium. It was the first Relais de Campagne classified as Excellent. The Biodynamic structure was in fact classified 5 "daisies", in compliance with the ICEA standard of Eco-Bio Tourism.
We show our love and respect of nature through our actions, and the new photovoltaic plant for the production of green energy is the new flagship. In our farmhouse you will not be considered a customer, but only a welcome guest on holiday
RELAX 
IN A PLEASANT ENVIRONMENT, THE FACILITIES AND ACTIVITIES AVAILABLE TO THE GUESTS ARE NUMEROUS AND PARTICULARLY SUITABLE TO ESCAPE THE DAILY ROUTINE.
Among these the aromatherapy lounge stands out , a place of regeneration, an exclusive combination of natural elements. Aromas from cocktails of essential oils, crystals with electromagnetic fields, nature music therapy and light-therapy
We have created a new line of organic products that we sell directly and you can try on site. We transform naturally the gifts nature provides us with

Agriturismo  Il Pino bioagricoltura s.s. Soc. Agr.
Fraz. Castiglion Ubertini 78 Terranuova Bracciolini (Ar)