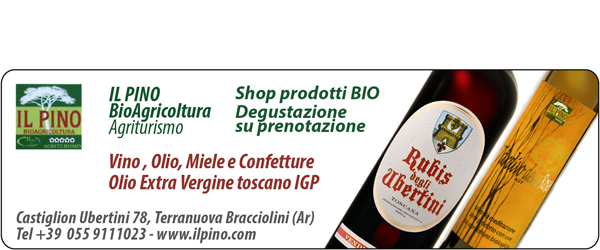 Castiglion Ubertini, Medieval village of the 12th century, welcomes you immersed in an unspoilt nature characterized by rows of vines of Malvasia, plantations of organic strawberries, herbarium of medicinal plants, olive groves and plantations of Rosa Canina, our own Farmhouse dating back to the late Middle Ages.
This is where we have created our biological oasis, with whole productions that have allowed us to obtain the certification I.C.E.A. (Institute for Ethical and Environmental certification).
Who comes to us feels to be in this clean, natural microsystem of ancient things, of flavors of the past.
Also with the first mentioned plantations we have created a line of organic products of our production with direct sales and tasting. Here is all this is il Pino where: Everything that nature gives us, we transform it genuinely..
Direct sale and tasting: Open Monday to Saturday 09.00/13.00-16.00/19.00
OUR TASTINGS

Agriturismo  Il Pino bioagricoltura s.s. Soc. Agr.
Fraz. Castiglion Ubertini 78 Terranuova Bracciolini (Ar)